I'm home today, sitting beside a very sick, wan little boy. My heart's delight, Elias, was up half the night with a horrible stomach flu and now is weak and pale and frail looking. I've talked to the nurse once already. He seems to be done vomiting and now we're carefully giving him sips of water every ten minutes to see if he can keep it down.
In the meantime, I'm keeping watch over him but must sit quietly on the couch beside him, and have time to return to beautiful Paris in happier times.
On Wednesday morning of that lovely week, Ben and the boys decided to climb to the top of Notre Dame and see the gargoyles. It was a cheery, sunny morning. The previous day they had waited in the line in the rain for a while and then given up. But on this bright day, they got an early start. After my struggles vs the stairs of the Eiffel Tower, I decided not to try the Notre Dame tower climb. Later the boys and Ben said it was MUCH easier! They had a wonderful time up there! (please note, you can always click on a picture to make him larger.)
But I had another goal on my list, have a quiet French breakfast and then shop for beautiful scarves. The breakfast place I had in mind turned out to be closed– the hours of things in Paris always seemed rather odd. Like the excellent coffee shop we discovered, but it didn't open until 9:30 a.m.?? Strange French people! Don't you want a cup a emporter on the way to work? Apparently not. I walked around on Ile St. Louis a bit and eventually found a different place with a nice view of the Seine. There I attempted to get my laptop to work – I had a vision of doing the NYT puzzle in Paris! But, no. Technical difficulties. I had a lovely time, though, sipping cafe creme and watching all the fine people strolling along the fleuve.
And the scarf shopping element went beautifully. I had heard good things about Dawali, and lo there was a shop right on our Ile. After breakfast I walked over there with a plan to find the perfect scarf or scarves for my new life a chic Paris-visitor. The shop girl was wonderful, and after the usual tango as to which language would be best, we compromised by both speaking both. She helped me choose the best scarf options– one square silk one and one long rectangular light wool scarf with beading along the edges. She also gave me an elaborate tying lesson. And she said she would like to visit the USA one time, because she wants "to keep an open mind." (Hm.)
A word about Paris fashion. … To me, coming from the land of clogs and jeans and general American mom sloppiness, Paris fashion was a challenge. I dreaded being one of THOSE Americans you could pick out at twenty paces in Paris. You know, the ones who weigh BEAUCOUP, and always show up in appliquéd sweatshirts and big baggy jeans and hideous huge athletic footwear. The footwear and the weight issues combined seemed the tell-tale combination. I make no claims to being thin, but Americans, please! Must you be so, SO…egregiously  large??? Every once in a while I would luck out and the large person would be German, but not in those shoes. The Germans would never wear them either. So pre-Paris I spent some time and effort on finding good quality footwear that would not mark me as one of, well, let's face it, my tribe.
Here is a picture of me and Isaac at the Rodin Museum, with my beautiful new scarf and the shoes I settled on, comfortable attractive (but sheesh $$$$) Naots.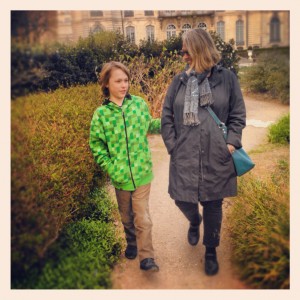 The colors in this picture, even pre-Instagram, are off. My coat is purple and the scarf is navy-indigo with sort of opalescent beading on the edges. And if one must wear support stockings like an old granny, at least let them be black, as shown!
That being said, I would not like to live in a place where one's appearance is such a constant focus. The process of getting up and making myself look half way decent soon grew tiresome. Wearing make-up AND an ironed blouse??? I felt like I had to dress as I would to go out to a nice dinner every single minute, and my children were supposed to look presentable, too, no less!
Anyway, this was the last day we had any more gumption less for official tourist activities. After the boys and Ben went to Notre Dame, and I got my scarves, we rendezvoused set out for a castle. We took a cab over to Chateau de Vincennes. It's a nice little castle, all right. I especially liked the big empty chapel, with its tall stained glass windows.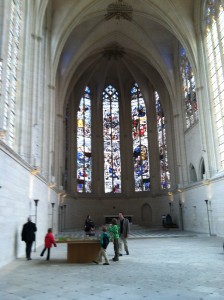 Our idea after that was to stop and have a brioche, and then cab it over to the Musee Rodin. This is how the kids looked in the cab.
It was due to the extreme exhaustion beginning to grip us that the Musee Rodin was our last museum of the trip. It is a lovely place, though. It's mostly a beautiful garden, and although it was very early spring I found a few things already blooming.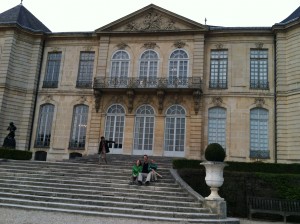 During our walk through Rodin's house, Isaac observed a sculpture of a naked woman, extremely exposed, indeed looking like she was prepping for a PAP smear, and he asked, "Do you think the whole point of art is so those artists could look at naked ladies?" Good question!
However, in a lighter and more age-appropriate note, while walking to the boat to go back to our Ile, we came across a series of mazes painted on the pavement for our enjoyment.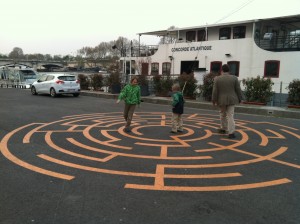 The next day, we all agreed we were complete and finally musee'd out. I asked Isaac what he like best about Paris so far, and he said, "Meringues!" So I suggested that we use that as our focus for the day. This evolved into a quest to find the best meringue in Paris, which then expanded to include the best Macarons also, due to the scarcity of meringues. We split up– Ben and Elias headed a la droit, up into the 3rd Arrondissment, and Isaac and I headed a la gauche, down around St. Germain-des-Pres.
Along our travels, we came to a wonderful comic book store, which had every possible comic book in both French and English, as well as many action figures and other accessories. Isaac was especially taken with these huge, real Lord of the Rings swords.
Now, as to our quest for meringues. We found them. We found the holy grail of meringues in Paris. They reside at the wonderfully named Aux Merveilleux de Fred. These are etherial little clouds, about the size of eggs. (They come in many sizes, but we got minis because we wanted to taste them all.) They consist of a fragile shell of meringue (like the topping on lemon meringue pie, but crisp all the way through), coated with something splendid, such as shaved chocolate, and filled with flavored whipped cream. The effect is light and rich at the same time, crisp, shattering and all around sublime.
Ben and Elias tracked down many, many macaron. Again, these are light and egg-white based, with a crispy shell and sandwiched around a filled interior. Many flavors, raspberry being Elias's all time favorite.
However, the whole taste-test conceit did not succeed. Each child simply ate as much of the ones he liked as humanly possible. I loved the meringues, but almost immediately got sugared out, and Ben just didn't want any of them at all. As a reason to fan out and explore the city, though, it worked quite well. Isaac and I just had a nice afternoon walking around St. Germain. We also went to this amazing place called La Patisserie des Reves, "the pastry shop of dreams." I wish I had a photo of the shop. You can look at the website to get the gist of it. It was minimal and spare, with these glass cloches dangling on cords from the ceiling, and under each one would be a gem-like confection of some kind. They were displayed like works of art, which was fitting. As it turned out, they didn't actually have any meringues, but I bought two things that were meringue-based. A lemon meringue tart and a ball-shaped thing that involved concentric spheres of chocolate and hazelnut cream in a meringue shell. The lady wrapped everything up in a beautiful box with a ribbon and put in a "pastry of dreams" bag that I decided to keep as one of my prized souvenirs.  That experiment ended in something of a sugar coma.
The next day was our last day in Paris, Friday. As a last hurrah on the "best of" theme, we set out to find the best eclair. Again, this was a good reason to set out on an expedition of some kind, and the kids were behind it. The best eclair in Paris (okay, well, this is what I'm told, it was the only one I had!) resides at 51 rue Montorguiel, near Les Halles. We walked up to Stohrer to see for ourselves. And yes, the eclairs are excellent.
Along the way, the children chased pigeons around in front of the Pompidou.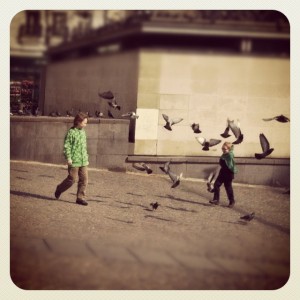 And also rode in a very nice double-decker carrousel: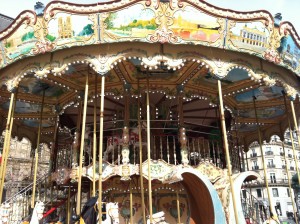 We devoted the rest of the day to child's play. We decided that the kids could not absorb one other iota of cultural enrichment, and just need to run around and be kids. Plus it was just a lovely day. So we headed over to the Luxembourg Gardens and spent many hours there. First we fed the ducks.
They had this nice play area that you actually pay a couple Euros to get into. There we spent the next many hours, mostly on this large climbing spider web thing, and on this little zipline type deal, which the kids rode endlessly while Ben and I reclined on a park bench.
We took a break for lunch at a lovely little outdoor cafe in the Jardins, and then played some more. When we finally got home in the late afternoon, everyone was quite tired. Ben was, I think in retrospect, really starting to come down with the flu. But it was our last night, so I dragged us out for crepes one last time. And such wonderful crepes they were! Buckwheat (gluten free) lacy affairs, filled with scallops and leeks, for instance. Followed by a visit to the what surely is the best salty caramel shop in Paris, if not the world, and a long walk home through the bustling Marais.
Then, it was all just about packing and setting the apartment to rights.
We did on that last day manage to get admonished by a French old bitty who lived downstairs from us. Perhaps this completed our French experience perfectly! What visit to Paris with children would be complete without a scolding from a native. It was poor timing that the one moment the kids decided to drop their hoodies down the five-story stairwell was the very moment that she, who I had not seen once all week, appeared. It was perhaps even worse timing that I was not stopping them from the hoodie dropping project (please note: it was not harmful. It could not hit anyone. It was silent. It was rather beautiful to watch it fall. It was a wonderful physics experiment. But I say all this as an American of the Free-to-be-you-and-me generation. I don't think Madame La Veille Francaise thought any of these things!)
So when I peered down to see the long fall, I was confronted with this angry little wrinkled face scowling up at me from the landing below. Surely, this is simply not done! The lady complained about them JUMPING ALL THE DAY. And also harming her flowers! (A jade plant, which had lost a few leaves due to dryness, I would say. The children really did not touch it or abuse it in anyway.)
Now, in our defense, we were not in the apartment all that much, see preceding posts about what we were doing, and when home 90% of the time the kids were stunned and exhausted into a silent gaze at a flickering screen of one kind or another. BUT that being said there were a couple interludes of roughhousing, and possibly toy gun/sword fighting,  which in those old Medieval buildings probably did seem very loud.
But it was our last night, so we just packed quietly and left early the next morning, putting the poor old woman out of her misery. She had an oppressed little girl with her, who I know would never dream of doing anything in any way rambunctious! I told the apartment guy and the cabby about the scolding– really I wanted him to know about it in case she complained– and this launched them both on long critiques of the French culture and especially the unsmiling French old people. They were completely on our team and indeed apologized to US of all things, about their stifling morays.
It's a buttoned-up land, there is no doubt.
But it comes in a complete package, doesn't it? You have to dress nicely, and be quiet and respectful. But on the other hand, you get to see beautiful things almost everywhere you look, you eat beautiful food, and experience a culture where elegance is the just the norm.
On the other hand, the morning after our long, long journey home, when Ben was flat out sick as a dog, and I was quite sick but the slightly more ambulatory of the two, it was rather a relief to head out to the grocery store in a ratty sweater and a pony tail, a shirt I had slept in, no blouse, no make-up, actually looking like death. I found so many in my sisterhood of Sunday morning shoppers, nearly out in their pajamas and slippers so unkempt were they! And indeed in the past two weeks, I have been looking with great fondness on our schlumpy and disheveled population, clodding around in their oversized shoes, wearing hoodies well into their middle age, jeans abounding, baggy sweat pants, fleece, so many wrinkled, and mismatched masses happily oblivious to the grotesque fashion faux pas that they take as normal life.
One time walking along in Paris, I asked Isaac what he thinks about Americans now that he's been in London and Paris. He said, "We're big, we're loud, we're sloppy, and we're a lot of fun!"
Yes, I loved LOVED being in Paris, AND…. it's also good to be home in the sweet old USA.

Copyright secured by Digiprove © 2014 Catherine Park